DOWN TO EARTH
Skagen is on a journey to become more environmentally sustainable with our introduction of Aaren Naturals. Each timepiece's case and strap feature pro-planet materials, including stainless steel with at least 50% recycled content and leather alternatives made with mulberry bark, cork and apple*.
*Leather alternatives made with cork and apple also include man-made materials.
DESIGNING FOR THE FUTURE
Our mission is to leave the world a better place for future generations.

WHAT PRO-PLANET MEANS TO SKAGEN
Products we label as pro-planet must be made with at least one material that meets one or more of the following criteria:

Made of more than
50% recycled content

Proven to reduce the use of
natural resources and/or
chemicals during production

Renewable and
regenerative
DISCOVER OUR
PRO-PLANET STYLES
Look for the leaf to discover pro-planet styles. The Skagen design team is working with like-minded partners to amplify our social responsibility and environmentally sustainable styles. Check back frequently to see new additions to this growing collection.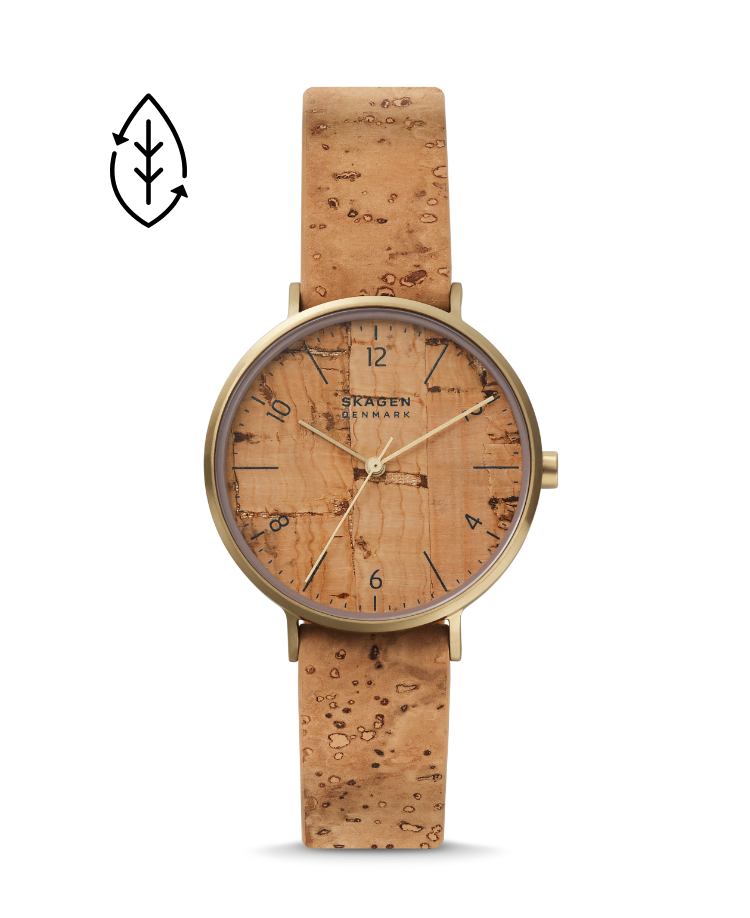 Skagen celebrates the Danish way of life: free, spontaneous, and in the moment. Our watches and jewelry are fueled by a love of modern design––playing with color and current fashion influences.
We're energized by the Copenhagen fashion scene and emerging Danish designers who mix and match bold colors and patterns.
We're finding refreshed inspiration in Denmark's landscape—iridescent seas, vibrant skies, rocky shorelines. Our modern designs draw from these natural influences.
We're dialed-in to purposeful design that speaks to the now—modern, functional, simple pieces with enduring characteristics.