Hybrid Smartwatch HR - Jorn 38mm Black Leather
Product Details
Notifications:
Alarm Clock, App Alerts, Calendar Alerts, Email, Multiple Time Zones, Social Media, Text
Functions:
Activity Tracker, Challenge Friends to a Workout, Control Your Music, Customizable Buttons, Date, GPS, Heart Rate Tracking, Interchangeable Watch Band, Notifications, Personalize Your Dial, Sleep Tracker, Visualized Workout Routes
Connectivity:
Bluetooth 5.0 LE
Compatibility:
Skagen Smartwatches work with phones running the latest version of Android or iOS. Supported features may vary between countries with compatibility subject to change.
Battery Life:
Up to 2 weeks **Based on usage**
Dial Color:
Black, Negative Display
Interchangeable Compatibility:
18MM
Operating System:
Skagen Connected (Hybrid App)
Platform:
JORN 38MM HYBRID HR
Sensors:
Accelerometer, Heart Rate
Battery Charge Time:
Charge Time 60 min to 80%
View More
To avoid damage to your watch, only use with included charger. Do not use a USB hub, USB splitter, USB y-cable, battery pack or other peripheral device to charge.
Product should be kept more than 20cm away from implanted medical devices to minimize potential for RF interference. See product insert for full details.
Customizable: Change up your Notifications, Apps, and Dials or get creative with interchangeable straps
Heart Rate +In-Depth Wellness Tracking
Ink Screen- Extended Battery Life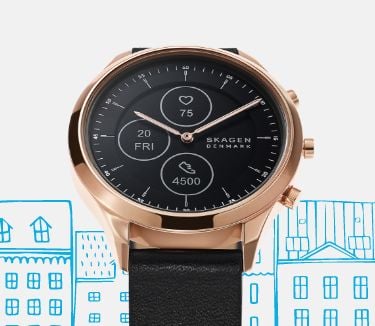 Completely Customizable
Assign functions to your buttons, view info that'll matter the most, pick your dial style and so much more.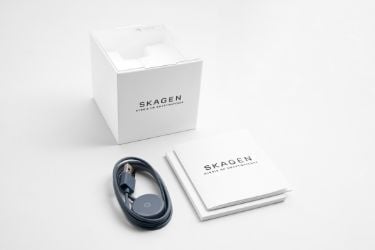 PLANET-FORWARD PACKAGING
The paper on Skagen's core packaging is FSC-certified and 100% able to be recycled. Help us help the planet by recycling it. Please check your local recycling facilities for applicable guidelines before recycling. Together, we can make a difference!